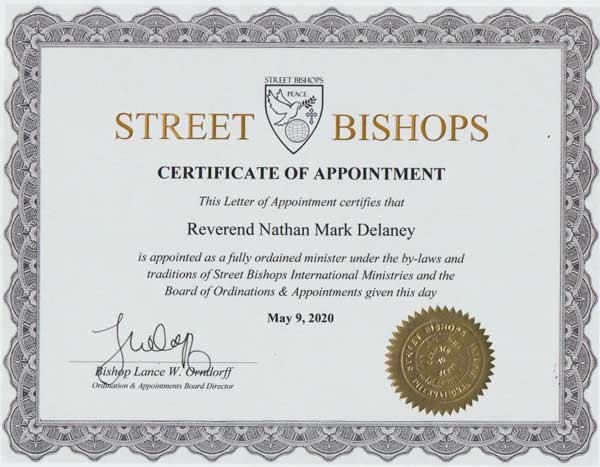 Street Bishops Ministries has been a blessing to many men and women over the years as they seek an avenue to begin a ministry. We have provided ordination, credentials, leadership, and moreover these 20 years, and feel so blessed to have been able to do so.  Once issued, the ordination does not expire nor need to be renewed.
The benefits of ordination include:
1 . Everyone is approved.
2. Appointment as a minister recognized world-wide
2. Access to our leadership team to help you start your ministry
3, Access to our tons of wedding ceremony examples to get you started with weddings
4. A certificate of ordination, a letter of ordination and appointment, and a letter of good standing for court filings
5. and more
This is the process:
1. Complete the form below. (Now Again Available World-Wide)
2. Click Submit to send this information to us.
3. Use your credit or debit card to pay the fee
($25 admin fee and $7.15 Priority Mail)
4. Expect your ordination papers within a week or so.
5. Contact us as much as you'd like to get guidance and advice!
---

This website's security is certified and your privacy is protected.