Request Ordination Right Here
Complete the Form, Submit, and Receive Your
Ordination in 3-5 days.
Street Bishops Ministries has been a blessing to many men and women over the years as they seek an avenue to begin a ministry. We have provided ordination, credentials, leadership, and moreover these 20 years, and feel so blessed to have been able to do so.  Once issued, the ordination does not expire nor need to be renewed.
Ordination Certificate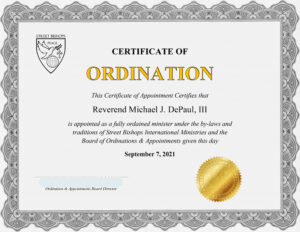 Complete the form below.
Choose your preferred title: Reverend, Minister, Pastor, Missionary, Chaplain, Brother, Sister
Enter your FULL LEGAL NAME
Add additional information as listed
Pay the $25 ordination fee plus

$8.10

priority mail postage.
We will priority postal mail to you:
Letter of Ordination with embossed signature.
Letter of Good Standing for your circuit court, if needed
Frame-quality Certificate of Appointment
NIV New Testament Bible
Copy of Lance's Wedding Handbook (now in paper form, also avail in PDF)
Receive your ordination papers within a week or less and contact us as much as you'd like to get guidance and advice!
---