Street Bishops Ministries started 23 years ago as an answer to the call for training and leadership in assisting others in beginning their own ministries. For more than two decades, Street Bishops has assisted thousands of individuals and organizations in starting and growing their efforts to serve the community and bring others to Jesus Christ. Often, ordination is the first step in that process. But others need assistance with governance, corporation formation, 501(c)3 applications, and more.  If assistance with your corporation and 501(c)3 application is what you would like, then email secretary@streetbishops.com and begin that conversation.
You can begin now to answer your call from God to share the Good News of Jesus Christ. Each of us has a calling from God. Each of us has our own conversations with the Holy Spirit. Each of us relies on the power of the resurrection to begin anew each day facing the challenges of our mission to shepherd ourselves first, then our flock. This is the life of a God-centered life and ministry.
Everyone is Approved, No Roadblocks Here!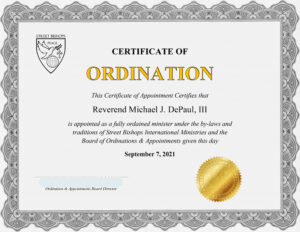 Ordination Certificate and Letters of Ordination
Get Ordained Today, Click Here
We can join together to support one another in our work for God and in support of those we minister to each and every day. And we can support each other in growing the reach and effectiveness of our ministries. That is the purpose of Street Bishops.
Our Ministry
Since 2002, Street Bishops Ministries has been reaching out to you, the small and medium-sized ministries, both new start-ups and seasoned, to bring our experiences, talents, and advice to not only provide a home for you but to provide the knowledge and resources to grow.
The more you know, the more effective you can be. The less time you have to spend learning about the business and operations of a ministry, the more time you can invest in the specifics of your mission work. So join us here at Street Bishops and let's make this a partnership, a relationship that supports you as you move your ministry forward as we all serve our individual callings.
Street Bishops is here to provide you with education and services in the following areas:
Wedding Ceremony
How to start and run a successful ministry
501(c)3 – do you need it? How to get it.
Church/Ministry Membership
Fundraising
Daily Administrative Issues
Youth Services Planning and Execution
Discover what Youth Groups want today
and more.
One of the many ways we can assist you in standing up your ministry is by offering you ordination.
This is the process:
Complete the form below.
Choose your preferred title: Reverend, Minister, Pastor, Missionary, Chaplain, Brother, Sister

Submit the form.

Pay the $29 ordination fee plus $8.10 priority mail postage.

Then you will receive:
Letter of Ordination with embossed signature.
Letter of Good Standing for your circuit court, if needed
Frame-quality Certificate of Appointment
Wedding Officiating Handbook (in print)
Personalized Ministry ID Card with your photo (can be added separately for an additional charge)
Then, contact us as much as you'd like to get guidance and advice!
Complete this form now for ordination:
Use this Ordination Application – Click Here